Joey Daytona Goes to the Brickyard 400, Aug. 5th 2001
We drove all night from New York to the Indiana-Ohio border where we found others camped out in the parking lot of a highway rest area.
They looked as if they were not on vacation, but truly homeless!
Like the Okies going to California during the Great Depression they played the banjo barefooted and spoke of the Promised Land.
When we got to Indy our room was not ready, so we waited out back... ;-)/
That is real corn in that field!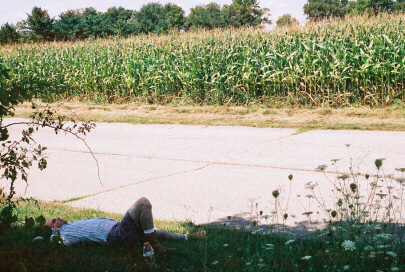 We went to a cruise night in Greenwood IN at a classic 50's style burger joint called The Suds!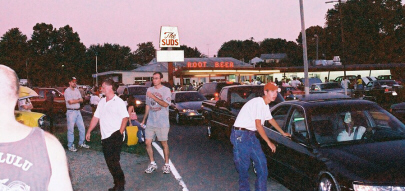 The Impala SS Club of Indiana hangs out there and on Saturday nights about 300 cars turn out for the cruise and parking, from 4pm to midnight.
Plenty of classic cars filled the parking lot all night, including this old jalopy with a plywood firewall.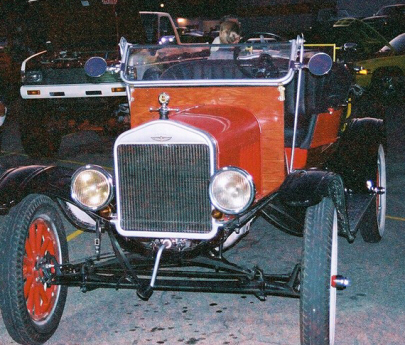 Here is a reproduction of the Australian Ford seen in the movies "Mad Max" and "The Road Warrior".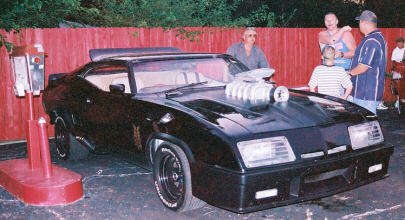 The next morning we got up and got gas and ice before going to the Indianapolis Motor Speedway. ;-)/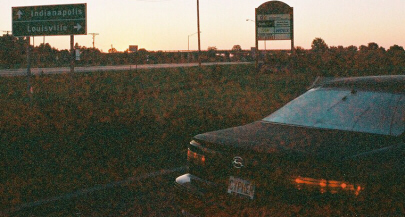 Lots of folks like to camp out, these frat boys tried an old girlie lure sure to fail...
the signs on top of their camper named "The Love Shack" read,
"Butt Naked Twister Played Here" and "Free Nude Massages Here"
Good luck guys!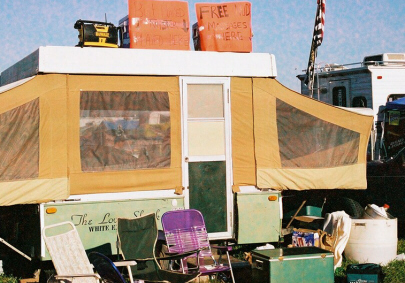 We got to the track early to get good parking then had a walk around to find souvenirs.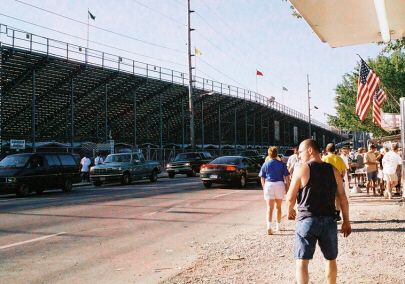 People have raced here since 1911...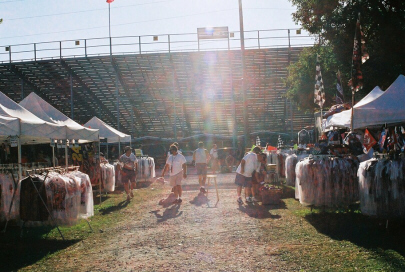 Below we see one of Indy's Finest standing on top of his police motorcycle trying to get people to stop walking in the street.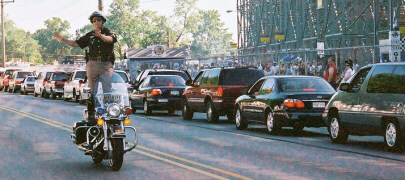 We went back to the car and got some more rest in what little shade was left...
Note the "Unofficial Tony Stewart Crying Towel" in his teams shade of Home Depot orange!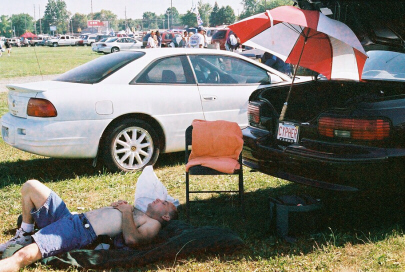 ;-)/
Here is a guy wearing a Coors Light shirt (they sponsor Sterling Marlin's Dodge)
and drinking a Budweiser (sponsors Dale Earnhardt Jr.)
in a green Koozy with a Chevy bowtie on it.... Big Ballin' it as usual...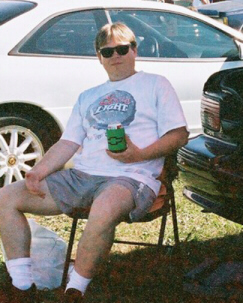 This was the view from our car in the parking lot.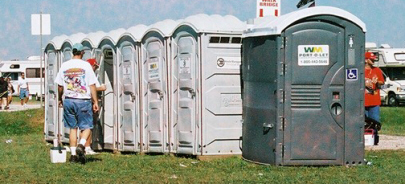 Once inside we found our seats and saw the introductory procession, including more of Indy's Finest riding their motorcycles that spelled out...
I N D I A N A P O L I S
...just in case you were too drunk to know where you had passed out from the ill combo of cheap beer and no sleep.

Here is Jay Leno driving the Monte Carlo Pace Car...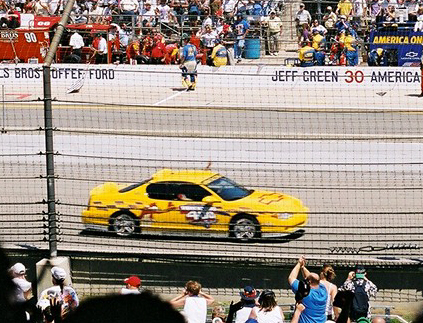 Here is Dale Earnhardt Jr. in the pits...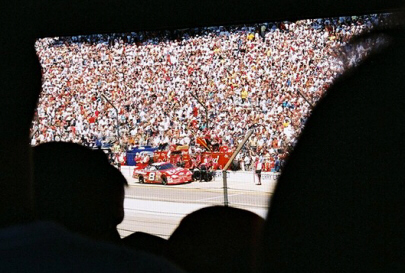 Here we see Kevin Harvick driving past us.
Hoosier Jeff Gordon wins the race, again...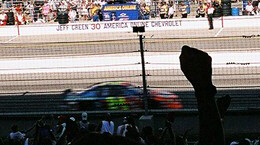 After the race, obviously some of the fans must have had too much to drink...
This #22 Ward Burton fan was seated on a cooler on top of a little red wagon his friends pushed.
Every so often he'd open his eyes and say, "Beep, Beep!" Just like the cartoon Road Runner.
His friend on the right wore his shirt from the year before, you'd think they would have learned by now.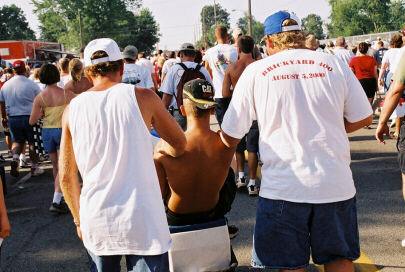 Some race fans could not drive, so they tried to take a cab through the sea of humanity fleeing the scene, we hoped they were not charged by the minute!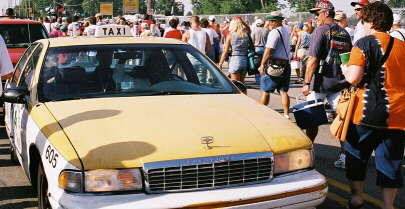 On the way back East we ran into some haulers going back to North Carolina...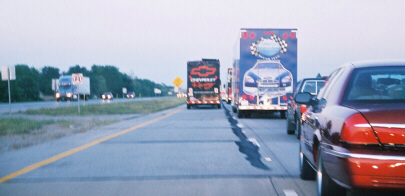 Happy Motoring!